Kim Frazer wins International Bridge Press Association
Master Point Press 2020 Book of the Year Award
Kim Frazer, an Olympian in Athens 2004 and winner of three gold medals in four Commonwealth games for shooting, has won a prestigious international award for writing a bridge book "Gaining the Mental Edge at Bridge."
The International Bridge Press Association has 300 journalists as members around the world. The award is sponsored by Master Point Press and normally presented at the Hainan Bridge Festival in China. Hopefully when travel restrictions are lifted Kim will be travelling to Hainan to accept the award in person.
The award was announced at the IBPA AGM by the President, Barry Rigal, who visits Australia often to edit the Daily Bulletin at the Gold Coast Congress.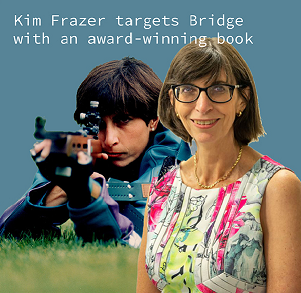 In shooting Kim was National Women's Champion on seven occasions and National Open champion twice.
In bridge Kim has represented Victoria in Women's and Open teams and has won selection for the Australian Women's Team.
It was in shooting that Kim became interested in the mental side of sport. When she took up Bridge she started writing articles for Australian bridge magazines and the French bridge magazine Le Brigeur on the application of sports psychology in bridge. In this book she has adapted the mental techniques that brought her success in shooting and highlights how to use these at the bridge table.
The foreword of her book was written by Ron Klinger, champion Australian bridge player, Bridge author of over 70 books and bridge columnist for the SMH for 18 years. Ron wrote "I am anxious to try out these new ideas and incorporate them as part of my regular regime. I can't wait for my next bridge game! I would just like to bar all of my regular opponents from reading this book."
Kim is still heavily involved in the administration of shooting and bridge and is Secretary of the Australian Bridge Federation.
The President of the ABF, Allison Stralow, says "It is a great honour for Australian bridge that Kim has won such a prestigious award against international competition."
Kim won the award from a shortlist of international bridge writers including David Bird author of 130 books, Larry Cohen best known for 'The Law of Total Tricks', Mike Lawrence who has won three Bermuda Bowls and Nicolas Hammond who
was also famous for solving the Rubik's Cube in 37 seconds.
Kim is the fifth Australian to have won this award and only the second woman following champion Sabine Auken from Germany in 2006 with "I Love This Game".
Australian winners IBPA Book of the Year:
2009 Ron Klinger (Right Though the Pack Again)
2013 Bill Jacobs (Fantunes Revealed)
2014 Tim Bourke and Justin Corfield (The Art of Director Play)
2017 Sartaj Hans (Bidding the Best)
2020 Kim Frazer (Gaining the Mental Edge at Bridge)
These winners demonstrate the exceptional standard of bridge writing in Australia.
Press Release by Peter Cox, Head of Marketing; Australian Bridge Federation Ltd.