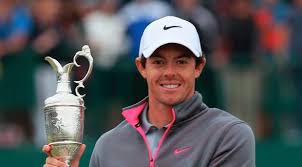 2014 British Open Winner McIlroy holding the Claret Jug.
Image: Belfast Telegraph 
The most significant turning point in his career came on April 10, 2011. This is when he was on the cusp of his first major, leading the Masters in Augusta on the back nine of the final round. But he hit a wayward tee shot on the 10th and proceeded to implode. He scored a triple bogey, and followed it with a bogey and then a double bogey at the 11th and 12th. It was a humiliation so public that many commentators wondered if he would ever recover. 
On Twitter, Ian Poulter, his Ryder Cup team-mate, posted a health and safety sign: "First Aid for Choking".
But McIlroy was resolute. "It was all about turning disappointment into motivation," he says. "I thought to myself, 'What I showed out there, that is not me. That is not who I want to be. I want to be a gritty competitor. I want to be able to close the deal. I don't want to crumble under pressure.' And I said to myself, 'I am never going to let that happen again.' I went home and analysed it. I watched the round on video. I talked to a few people… And I realised that I was way too focused. I was thinking about the round overnight, during the morning; nothing else was on my mind. I was thinking about what could go right, but also about what could go wrong. I was too anxious and wound up. That is no state of mind in which to perform."
Two months later, he had a chance to deploy a different mental strategy when he led the US Open by eight shots going into the final day. Instead of agonising overnight about his final round, he switched off. "What I learnt from Augusta, and what I try to put into place every round now, is getting my mind away from the intensity and pressure. Even between shots, I have learnt to switch off. I talk to my caddie about a movie that I saw the night before, or a football match. Sometimes, I will tell JP [his caddie] to talk to me about a film, a match, anything to stop me focusing too hard.
"Only as I approach the ball do I switch back on. This means there isn't enough time to think about what might go wrong, for negative thoughts, for doubts to creep into your mind. All you have time to do is to consider the shot in hand, pull the club from the bag, and visualise what you are going to do next. I am a very visual person: I create a picture of the flight of the ball, seeing in my mind what the ball is going to do. And then the final piece is to strike it."
Excerpt from article by: MATTHEW SYED, THE TIMES JUNE 13, 2015